Director, Finance and Operations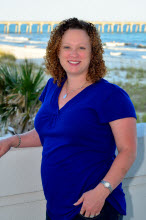 Executive Profile
Anne Marie Salter has been employed with Executive Perspectives since 2001. She began as a Logistics Coordinator, managing program scheduling, material fulfillment, and vendor relationships. As the company has expanded, Anne Marie's responsibilities have evolved. In addition to her prior responsibilities, she now manages the majority of EP's finance and HR functions, and is responsible for all internal process management. Anne Marie also works with our clients on a regular basis out in the field as an on-site program assistant.
Other Accomplishments
Prior to working at Executive Perspectives, Anne Marie worked as a logistics coordinator at K.C. Resources, a division of the Provant family of training companies. At K.C. Resources Anne Marie worked with management to support the merger and acquisition of multiple organizations by rationalizing real-estate, reducing redundant vendors, and reducing technology costs.
As the youngest of eight children Anne Marie finds most of her non-work time centered on family events. She also enjoys cooking, watching football & hockey, and spending time with her husband.
[pexcirclecta pex_attr_title="About Us" pex_attr_button_text="Return" pex_attr_button_link="https://executiveperspectives.com/about-us/" pex_attr_button_link_open="same" pex_attr_button_color="1e295f"][/pexcirclecta]