Vice-President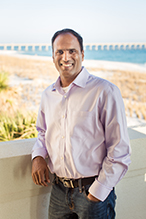 Education
MBA, Rutgers University
BS, University of Maryland
Expertise & Accomplishments
As a consultant of Executive Perspectives, Rohit Shyam develops simulations to help employees of Fortune 1000 companies improve execution of their strategy and adjust to the ever-changing customers and competitors. For over twelve years Rohit has facilitated seminars for executives and managers using interactive business simulations that replicate current strategic challenges. Participants practice making business decisions in a competitive environment which allows them to build the skills and capabilities required to be successful leaders.
He has gained a deep knowledge of business acumen and leadership through his work with global organizations across a broad range of industries such as Biopharma, Medical Device, Wireless and Wireline Telecom, Telecom Equipment, Media, Shipping, Utilities, and Technology Firms.
Rohit received his BA from the University of Maryland majoring in Finance and obtained an MBA from Rutgers University with a concentration in Finance.  Before returning to school full-time, he worked in financial services for seven years.  He spent five years managing investment portfolios for high net worth individuals and two years in the online brokerage industry.
[pexcirclecta pex_attr_title="About Us" pex_attr_button_text="Return" pex_attr_button_link="https://executiveperspectives.com/about-us/" pex_attr_button_link_open="same" pex_attr_button_color="1e295f"][/pexcirclecta]